Name: Lorenzo Robinson
Brand Affiliation: TheLo-key.com
Job Title: Founder/CEO
Age: 22
UP:  Lorenzo, firstly let us thank you for taking the time out to participate in our exclusive feature series here at UP.  So tell us, what's your current role?
Lo: "I am currently the Founder/CEO of TheLo-key.com, a young adult lifestyle based website recently re-released.
UP:  Dope, naturally we're sure that carries a lot of responsibility. What drove you in this direction, why the multimedia industry?
Lo: I have a strong passion for connecting with others. I genuinely love to entertain people and make them laugh, which are key elements to connecting with people. While growing up I was privileged to be exposed to many successful young adults who grew up in similar living situations, but were driven enough to push past the statistics. I then realized the key to helping others is to simply be relatable. Whether it is through radio/television, print or just a simple conversation.  My first thought was that the best way to intertwine all of those areas of media was via the Internet. So I decided to take the entrepreneurial route and create the Wal-Mart for a young adult lifestyle… TheLokey.com
UP:  So safe to say that your "boss move" is being a college students  Sam Walton of entertainment, the one stop shop for all things entertaining for young adults?
Lo: You can say that, I just like to entertain and expose others to the opportunities I have been blessed with.
UP:  The Internet is amazing for how it brings all these forms of communication to one resource. I know you've told us before that you have marketing experience, so what was your first legitimate gig in the industry?
Lo: I initially came on with clear channel radio as a marketing promotions intern, later I was hired on as a remote technician.
UP:  So media communications has always been a part of the repertoire, what are your thoughts on higher education?  Do you think college is necessary for someone trying to accomplish similar goals to yours?
Lo: This is a question that I have been going back and forth with myself for a while now. I feel that college is a necessary evil, but nevertheless the experience and networking opportunities were priceless.  So I guess I would say yes.
UP:  Interesting that you feel college is a necessary evil, and we'll be honest, we feel that quite a bit of what is taught in college is antiquated and doesn't adequately prepare emerging professionals.  So if you were President Yung Lo at a college for a day, what would you implement to make college more desirable and relevant?
Lo: I would definitely implement more entrepreneurial programs starting with your sophomore year. It seems like most colleges teach you how to go work for other people…. What about the students who want to make their teachers work for them?
I would also implement programs that promote individuality. These programs will allow students the opportunity to combine their natural talents, with the things they love and create their own career path. This way, students won't end up taking pointless classes for 4 to 5 years of their life and be forced to work a job that they don't really care to be at just to pay off student loans.
UP:  Every one we've spoken to whether it is academic or professional, always stresses networking as a main strength of attending college.  For our readers chasing a dream, what's some advice you have to help them execute?
Lo: I'd say identify exactly what that dream is, then create a process, and invest in yourself and others everyday. A lot of times, we have great ideas but leave them as just that "an idea." Once you create a process and set goals, I believe anything can be attainable.
UP:  The follow up is key; we think that's what separates dreamers and "doers." But it takes a certain spark to get out and do. When was the last time you've been inspired?
Lo: Actually it was A few weeks ago, when I read the last Urban Professor "On the Come Up" series featuring Rhonesha Byng.  To see someone my age as committed and persistent in pursuing her own dreams as an entrepreneur, definitely set a fire to grind even harder.
Click here to read
UP:  Positive peer pressure. It was a pleasure working with Rhonesha, sure it'll motivate her to know she's influencing her peers.  Rhonesha and achievers like you will make just about anyone have to take inventory of their grind.  What's some great advice you've received recently that you think is worth sharing?
Lo: A few years ago Tony Forte (The Urban Professor) told me to "stomach my dreams."  When you stomach your dreams, you're willing to do whatever it takes to make your dreams come to reality.  All good things come with sacrifices.
UP:  Yeah, Tony just recently spoke about stomaching your dream at the "A Driven World" campus tour going on now.
Click here to watch video
UP:  Speaking of sacrifice, what's another challenge you find yourself met with?
Lo: Fear. Fear by far may be the biggest bully alive. The fear of failing generally holds people back from stepping out their comfort zone and trying to achieve that dream that seems so far fetched. Every morning when I wake up I pray my fear away and then go on with my day.
UP:  Hopefully you don't have any fear in doing this feature.  If you had a favorite song that amped you up to get out of your comfort zone, what would it be?
Lo: You know I am from Atlanta so all T.I. songs turn me up. It's something about watching someone who came from the same area (West Atlanta) as you and make it to the top,  that gets me hype about my future.
"She Will" by Lil Wayne ft. Drake does it too. I feel like that song accurately describes the life of me and my team.
UP:  Success is good for confidence, but failure is a great teacher.  What have you learned from failure?
Lo: I have a love/hate relationship with failure. I hate her but she's taught me a lot. "Hard work beats talent when talent doesn't work hard," My first time failing taught me that I had to work extremely hard to strengthen my skill sets to even be considered a factor out in this cruel world.
I also learned that if you're afraid of failure then ultimately you are afraid of success… The worst thing that can happen if you take a risk is that you fail, but that's it. You will still be alive and in perfect health.  Just a little bit wiser and more prepared for the next opportunity.
UP:  Definitely, when trying to do something that has not been accomplished, fear is going to be natural because there is no precedent. We just have to push it to the back of our minds. Tell me Lo, what's the most influential book you've read?
Lo: The Alchemist by Paulo Coehlo. This fable just explains how life is a journey and everything happens for a reason.  It is up to us to acknowledge that and press on to live out our purpose. I had a hard time figuring out why certain things happened until I read this book. We often times become discouraged when unexpected bumps come throughout our odyssey, instead of using these experiences as fuel to persevere.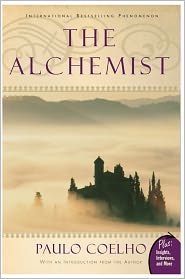 Click here to purchase
UP:  "The Alchemist" stays on our ever-growing recommended reading list. How do U Define Success?
Lo: Simply setting goals and achieving them.
UP:  What's an inspirational quote that you live by?
Lo: "Things are not a problem unless you acknowledge them as one." A lot of times we end up making a big deal out of the small things in life, instead of just taking everything as a learning experience and continuing to persevere throughout our lives. "Being realistic is the most commonly traveled road to mediocrity " – Will Smith.  If everyone were being "realistic" then we all would end up following the status quo instead of creating it.
UP:  So, now were really curious, with as many quotes, books, and insights that you know, you have to tell us what you do to relax and enjoy?  You are the collegiate entertainment king aren't you?
Lo: I wouldn't just say collegiate because I am about to graduate in a few months. However, I do throw events as well as work with radio stations which is something I love, so it never really feels like work. I also help direct my close friend Zach Boog's comedy blogs that he displays on youtube and WSHH. We're currently on a Shut Up and Listen College Tour that's powered by Dj Crisis, RockSmith Clothing, Lotus energy drink, and Cuestions Tequila which is quite relaxing I must say lol.
I know a lot of things I'm saying sounds like jobs but to us it's really just having fun with the intent of eventually getting paid to do it.
I also like to go to Atlanta Falcon games and tailgate with my family and friends.
Click here for tour kick-off video
UP:  Any last words or endeavors you want the UP audience to check out?
Lo: Just think about the ideal male or female you would like to talk to, generally they're entertaining, fashionably sound, smart, funny and ambitious… well that demographic drives TheLo-key.com all in one so make sure y'all check us out and follow us on twitter @_TheLokey U DEFINE SUCCESS
Drop "Yung Lo" a note in the community – Lorenzo Robinson.  You must be signed in to connect.  Sign-up now, it's the voice of the Young & Driven, and it's free to subscribe.
ralph lauren coupon
maple grove community center
native american culture
art in the streets
hyperthyroidism symptoms